Both Branding and Marketing are key parts of any business that work together with the aim to drive an increase in revenue. Many people misunderstand the two that it becomes very difficult to find the difference and combine both together and label it under 'marketing', which isn't right.
If you're one of these people who cannot distinguish between the two, then you're not alone. As a business owner, it is important to understand the difference between marketing and branding in detail so you can effectively use them together to run a successful business.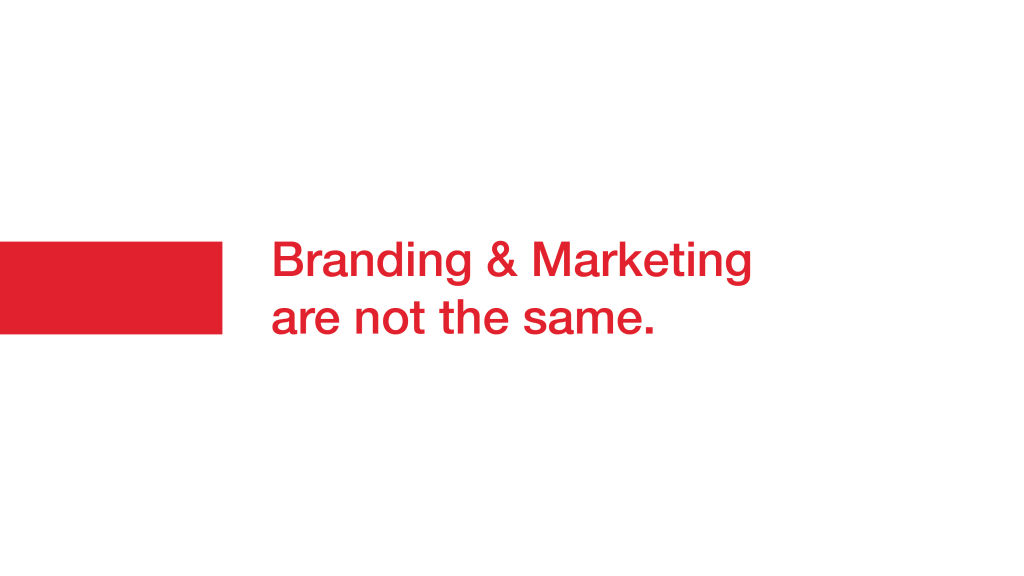 What is branding?
Branding, in a nutshell, is an organisation, service or produce which has a personality that has been shaped by its audience. 
A brand is a combination of name, logo and slogan which are used to differentiate a product or a service from the competitors in the market. All these elements give personality to a company that can be easily recognised worldwide.
You can read more about branding here.
What is marketing?
Marketing in general is how you get your message of your brand to your audience. It can include all forms of interactions with your consumers or develop strategies to target specific consumers. 
Understanding your audience is important. Marketing is huge! It's multi-dimensional. It can be warm, funny or serious. Meaning you can appeal to a range of audiences through a mixture of text, photos and videos, etc.
What's the difference between branding and marketing?
Marketing is your message, branding is your identity. 
Your brand is the true reason why your product exists. It's unique to you and your audience. Everytime you talk to your audience, your brand values and company culture are reflected in the way they feel, see, touch or experience your product/service. 
While marketing focuses on taking the voice of your business to your consumers, it's the brand that defines and creates these values. It is important to keep a consistent strategy across all mediums, so that each individual can portray the same brand strategy and culture.
Branding first. Marketing second. 
Many believe that if they have a logo, design or slogan, your product is ready for branding. Let's stop right there. It's not. These are the set of marketing materials which your marketing team/marketer will use to go to the market. 
So why is branding first? Well, you need to determine and define what your brand values are for the marketplace. What it does and what it's going to do in the future in the long run. Once that has been ironed out, you start to develop a brand strategy, and finally create a marketing campaign around it.
3. Company values – Marketing promotes them, branding creates them.
The biggest companies around the world are built on great values, and it's the brand that always creates these initial values. When defined, the marketing team takes it to the market for your consumers to understand your values too.
You own your marketing. Consumers own your brand.
Huh? Yes, consumers own your brand. Your brand is not your idea once it takes off. Many think that they can control how people receive their brands, but that isn't true. The true owner of a brand is always its consumers. 
Marketing is storytelling. Branding is more listening than talking. Consumers can tell you better things about your brand such as what is is and how it should be. They are your ambassadors. Good brands always listen to their consumers and allow them to define the values and then create marketing campaigns to promote those values through different media. 
Marketing discovers buyers, branding makes them customers/influencers. 
Marketing has the power to target and break into new audiences. Marketing does a great job at it, if it's done right, of course. However, marketing cannot always make your consumer stay loyal to your brand. This can be done through branding experiences.
Goal of marketing is sales. Goal of branding is reputation.
As we all know, the ultimate goal of marketing is always to drive sales sales to the company. It is the marketing team which continuously envisions different strategies to bring in new business to the company. 
However, that's not enough in the long run. You need your brand to play an important role and drive reputation. Branding helps you build a strong a healthy relationship with your consumers/audience so they always remember you.
Marketing showcases the benefits of the products/services, branding showcases your vision. 
The power of marketing is to showcase all the benefits and features of your product.
However, the true power of branding is to showcase your aspirations to the consumer, about where you are, and where you want to be in the future. 
A vision always sells more than anything. It makes people stay and believe in you.
Ying and Yang
Branding and marketing go hand in hand in driving your business goals. It is important to remember that branding can only provide your consumers with an understanding of whether they should choose your or not. 
You should always keep in mind that this process isn't a one time activity you should do just in the beginning –  it is always an on-going process. This process is where you can showcase your values, culture, philosophy and more importantly where you want to be. 
Invest equal time to do both, and see your business prosper!